HOW TO BE SINGLE AND HAPPY
There are two categories of people; those who enjoy being single- and those who don't.
If you find yourself in the second category , don't beat yourself too much. I know being single can make some people really unhappy and frustrated, particularly when it looks like everyone you know is either married or in a relationship. But the truth is, being single can be a blessing, if you let it.
Instead of wasting your time dwelling on why you are still single while your friends are going on dates, you should be thinking of how to make the best of your singlehood. You are not going to be single forever, it's only a matter of time. So do not tie your happiness to your relationship or marital status, you can be 'Happily Single.'
While you wait for that special someone to fill the void in your life, don't give up your happiness and miss out on the fun life brings as a single person. There is so much to do and enjoy while you are still single.
Join me as I share tips on how to be happy while single.
Here are eight ways to be single and happy.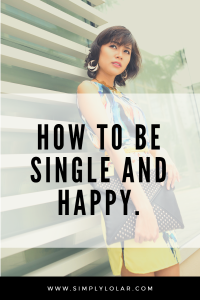 Love yourself.
 There is a popular saying that when you love yourself and everything else falls into line. You really have to love yourself to get anything done in this life.
You need to have a good self-worth which cuts across how you see and feel about yourself. As a single person, you should have the mindset that you are not anything less than you should be irrespective of your relationship status.
You should love yourself enough in a way that will positively impact all other aspects of your life. Nobody can love you better than you love yourself. Self-love is the best love.
Chase your dreams.
The best time to chase your dream is now that you have all your attention to yourself. It is common among single women to limit themselves and be slow on achieving their goals because they are waiting for marriage as a solution to their problems.
You should make a list of things you will love to achieve before getting the ring. Be so intentional about your dreams that when you look back after marriage you will be so proud of your achievements while single.
Use your single days to set the foundation for the future you desire.
3. Avoid pressure & mental stress.
A lot of single place pressure on themselves so much that they are blind to other things in their life that brings them happiness.
As if external pressures about getting married or the cliché word" settle down" is not enough, they stress themselves mentally about when the right person will come which make them miss out on other important things.
Avoid people, events or anyone that puts pressure on you or make you feel less of yourself.
Being single does not mean you should be sad all your life. Don't push yourself so hard that you become vulnerable or appear desperate to have a significant other.
Travel and hang out with friends.
One of the ways to be happy and enjoy yourself as a single woman is travelling and hanging out with friends. Plan your vacations to visit places outside your environment.
There are lots of information online on fun destinations you can visit, you can decide to tour with your friend if you don't want to travel solo.
Travelling makes you meet and interact with people. It helps relax your mind and give you time to think and plan. Remember to play "Single ladies by Beyoncé" at your beach party with friends. It doesn't get easier when you are married with kids, I know this because I'm presently there, lol.
5. Take Care of Yourself.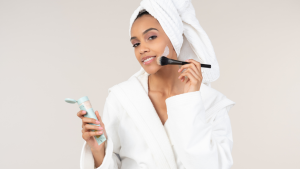 'One is not the loneliest number.' Recognize that even if you are alone, you should still practice self-care. Dress good, smell nice, eat healthy and exercise regularly to keep fit.
Take your health seriously, know more about your body. Learn how to track your menstrual cycle and ovulation, you don't have to get married before you know all this about yourself. Be kind to yourself, revel in your singleness.
6. Upgrade your knowledge and improve yourself.
If you want to see yourself becoming better, you need to work on developing yourself. Read books, Pick new hobbies and skills. Learn how to save and manage your finances, increase your streams of income, and invest your money.
Use this time for self-discovery and you will be happy with the woman you have grown to become.
Take that course to upgrade your skills and make you better in your line of career, attend conferences and learn from singles like you who have covered feats. Keep a diary, cultivate good habit and character.
Be intentional about being a better version of yourself. Even as a single, you can still be relevant and add value.
Spend time with family.
 Your family are those who really love you, you should spend some of your free time with them. This helps you create bond with them, knowing that they can catch you when you fall.
Take this time to be closer to your parents and learn life lessons from them. Family time also help you to know your siblings more and help you resolve issues you might have while growing up. Your family is your biggest support system.
Be prayerful & serve God.
 One of the best things you can do for yourself as a single is to build your relationship with God.
Have a good prayer life and talk to God about your desires. Serve Him with your talent, time, and resources. This will help you discover your purpose and shield you from making mistakes or taking steps that are outside His will for you.
Be so busy serving him that you spend no time brooding about being single. Let the right person meet you at the place of service.
Being single is a stage of life that everyone must pass through. You should make good use of this stage to your advantage. While at it, remember to be happy.