Etiquettes are the rules indicating the proper and polite way to behave in an environment, group, or society. In simpler terms, etiquettes are good behaviors that distinguish human beings from animals.
Church etiquettes are guidelines that control how an individual should behave in church. Like every other social gathering or environment, there are proper and polite ways to behave in church.
When you follow these rules, not only are you honoring God, but it also makes people respect you more.
Here are basic church etiquette that every churchgoer should practice.
1. Greet the ushers or greeters with a smile.
While being welcomed at the church entrance, be polite to greet the ushers or greeters with a warm smile. They are not your servants or beneath you in any way; they've only chosen to work for God, so don't be rude to them. Address them with respect. If an usher directs you to a seat you are uncomfortable with, respectfully tell them you would like to change seats.
Be punctual.
Being punctual to church is good stewardship. Some people go on time for Doctor's appointments, parties, movies, and work but go late to church. If you want all you can get from a service, do your best to arrive on time, and if peradventure you arrive late due to circumstances you can't control, do not cause distractions, find a seat at the back, and sit quietly.
Avoid chatting during sermon.
It is okay to respond to the preacher if they need you to. Avoid chatting, gisting, or gossiping in the middle of a service. Wait until after the service for long conversations with your neighbor or friend. Write a brief note if you must share something with the person next to you.
Talking in the middle of service is rude; It could distract the preacher and those sitting around you.
Put your cellphone on silent or switch it off.
It is disrespectful and distracting to have your cell phone ring during service. If you must use the bible app on your phone, the phone must be on silent. Texting, chatting, and watching videos online while the service is on is not good. You are in church for a reason; make the few hours you'll spend count.
Dress appropriately.
It is important to be decent with your church apparel. Just because they say 'come as you are' doesn't mean you should put on anything. Dress decently and modestly. Not all clothes are appropriate for church. Your clothes don't have to be expensive, ensure they are neat.
Don't go half naked; God is not moved by cleavage; He is not attracted by excessive makeup. It's a church, not a nightclub, so dress to please God, not to kill. You can still look attractive and classy without revealing so much flesh.
Be active and orderly.
Participate in the activities going on, except if you are medically unfit. Don't sit and watch during worship, even if you don't know the songs; move your body and clap your hands in adoration to God. Let God know you are in church.
If there is a reason to queue, follow others, don't jump line. The anointing or communion will get to everyone.
If you have kids with you, caution them.
They shouldn't be running around during service or distracting others. If they start to cry, gently take them out to the lobby, nursery, or restroom immediately. Don't sit there trying to console a screaming child. You must be considerate of others; don't let them miss the message.
Be friendly to visitors. 
Greet visitors warmly. Don't spend the entire time talking to your friends or members you already know. Interact with the visitors too, make them feel welcome and at home. That simple act might make them want to come again and again. Your act of friendliness towards visitors might make them become members.
Stay in your seat, and stop moving around or in and out of the service.
Not only does this distract other members, but it may also make the preacher think you don't like the sermon. I know sometimes nature might take its course and you must use the restroom, try not to make it too frequent.
10. Avoid eating or chewing gum.
Eating or chewing gum while in church is rude, avoid it. God should be honored in all.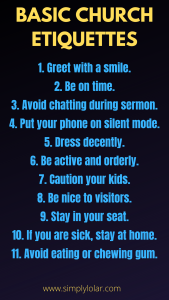 Stay at home if you are sick.
If you feel sick or are coughing or sneezing, please stay at home. Don't endanger others. The healing anointing can get to you anywhere.
The points listed above are just some of the basic rules of church etiquette. Feel free to share your thoughts or add other areas that you think should be included in the comments section below.
Other similar posts
How to grow spiritually as a busy mom