HOW TO GROW SPIRITUALLY AS A BUSY MOM
Motherhood is a beautiful and  priceless privilege, it is time-consuming and can be very overwhelming. A month after I had my son, I noticed I had not had any quiet time like I used to before his arrival. Even though my husband supported me greatly, still, the pain that came from having an episiotomy, the sleepless nights, the indescribable tiredness and many more feelings associated with being a new mom had taken me up so much. I genuinely needed divine strength to pull through the period but was too tired to ask for it. I kept wondering, if it was that difficult for me , a mom of one, I can imagine how it is for those with two, three, or more kids.
And to think that many are combining motherhood with work, schooling or some other important things, it is so easy to slip away from fellowshipping with God. Thank God I am able to figure it out on time and that is what I want to share with you.
Many things are in a constant struggle for your attention as a busy mom. It is a battle between the spirit and the flesh, and the balance between the spiritual and physical is threatened. With little ones in need of your attention 24/7, chores that needed to be done, and even spending quality time with your spouse, it can feel impossible to get that quiet time you need for personal devotion, bible study, and prayer.
While it is true that you cannot abandon your motherly duties for the things of God, you cannot also focus on your family only and let your spiritual life suffer. You need God's strength daily; motherhood is a lot of work.
You also need time with Jesus to de-stress, lift your burden, and revitalize your spirit so you can be spiritually strong for your family. There must be a way to strike a balance between both worlds, and that's what this piece is all about.
 
Here are ten ways to grow spiritually as a busy mom.
1. Take out the distractions. 
Can you identify the things that are pulling you away from God's presence? It could be anything ranging from business, social media, long phone calls, electronic gadgets like the TV, house chores, to taking the time for God for granted. Picking out these distractions and taking conscious steps towards being back in God's fold is the first step.
2. Get an accountability partner.
Having a mentor or someone you are accountable to will help keep you in check whenever you want to derail or slack. Your mentor or accountability partner is there to encourage you and push you in the direction of your spiritual goals. They help to make you better by advising and praying for and with you. Your accountability partner could also be your prayer partner, so instead of spending time on long calls gisting  and chatting away, part of the time could be used for prayers or bible study.
3. Pray everywhere
The Bible is in support of praying without ceasing. Develop the habit of speaking to your heavenly Father at all times. It creates a bond and brings you closer to him. Do not wait for a perfect time or place; you might not get that as soon as you want. God is present everywhere, and so every place is perfect.
Personally this has been working for me, I pray while doing chores, driving, feeding my baby, in the shower and while I am cooking.
When you need to talk to the Father, do it right away. While cooking, cleaning, tending to your kids, or going to get groceries, pray in your heart. God hears every quiet prayer of our hearts and the silent whispers of our lips. Don't let any day go by without you talking to God in prayer.
4. Use  wallpapers
Because your phone is in your hands for most of the day, you can use spiritual quotes and Bible verses as your home and lock screen wallpapers. That way, you're conscious of your spiritual goals and also feeding your mind with the essential things that will help your faith.
You won't know how much impact a simple line of the scripture can do for you until you try this. It keeps you focused on God the entire time.
5. Listen to the word.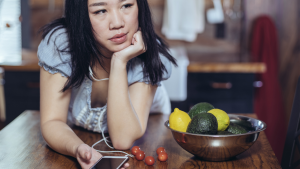 ''Faith comes from hearing and hearing the word of God''. One of the great ways to be in touch with the spirit is listening to the word of God. This can be through Christian tapes, podcasts, music, and teachings any chance you get. As you go about your day, listen to the Bible.
A good time to do this especially is in the car. It's a perfect time to meditate on what you hear. Many bible mobile apps come in handy. While you are doing the laundry, dishes, or vacuuming, you can listen to podcasts and sermons on YouTube to keep your mind occupied.
Those things add up.
6. Draw up a daily timetable 
Set up a daily timetable for a most convenient time when you can commune with God, preferably early mornings and late nights. These times, ensure that you study the Bible and pray. Sticking to your timetable helps you draw closer to your maker. There are daily prayer, meditation and bible study apps that could help, having some of these devotional apps on your phone will be of great help.
7. Take baby steps 
When you embark on this journey, do not expect to grow in a flash. Take baby steps till you can walk properly. There might be days you'll get so busy, there might be times you'll get so overwhelmed, and you wouldn't even remember devotion or praying. When this happens, don't beat yourself up; just pick up from where you stopped and continue.
With time, you won't have to be struggling again. If you're consistent, God always makes His grace sufficient for us. Our flesh may be weak; He sees the willingness in our hearts.
8. Be disciplined 
You can't achieve anything worthwhile without discipline, and this is no different. Be disciplined in your approach towards spiritual matters, and you'll find yourself growing.
9. Attend fellowships 
Do not neglect the gathering of the brethren. Create time to fellowship with other children of God. You'll get better spiritually when you interact with other Christians with the same values and beliefs.
10. Ask the Holy Spirit to help you 
You need the help of the Holy Spirit to grow in faith. He's an ever-present help in times of need. He's just a prayer away. Ask Him to help you become strong spiritually. Learn to call on Him whenever you are getting overwhelmed or confused. Lean on Him at all times for strength and support and you'll find yourself making progress.
Spiritual growth doesn't come without sacrifice, you have to be intentional and deliberate about your growth if indeed you desire to grow spiritually, you also might need to reorder your priorities and give time to the important things first. It is achievable as long as you are willing to try. His grace is sufficient!
Thank you for reading
Do you have methods or strategies that has been helping you grow spiritually as a busy mum? Feel free to share in the comment section, lets learn from you.