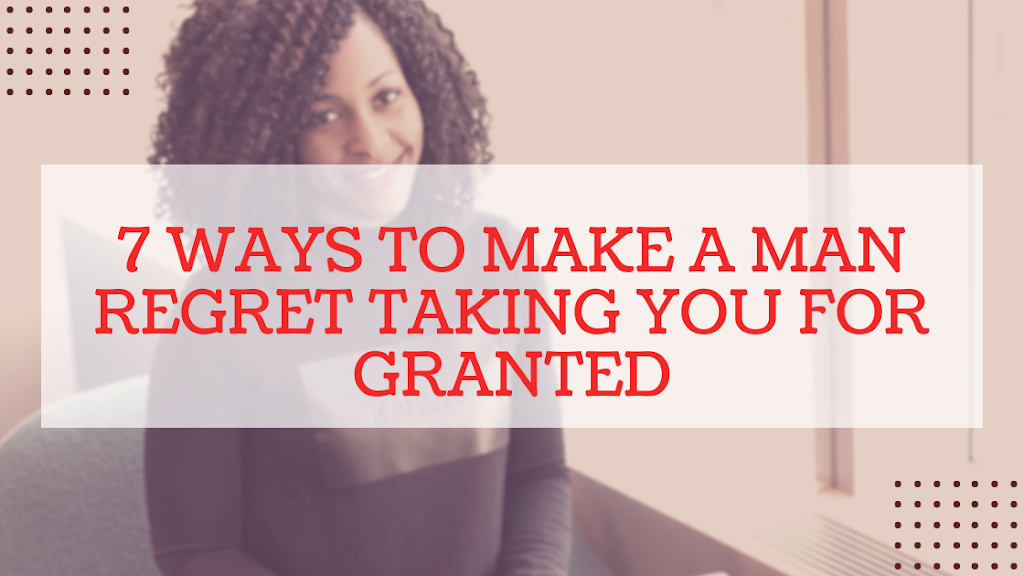 HOW TO MAKE A MAN REGRET TAKING YOU FOR GRANTED
Most Players, Narcissist, Cheaters, Manipulators and Liars are good for one thing- taking people for granted!
It's in their nature to think only about themselves, they expect you to give all of yourself to them without doing anything in return. They make you feel like they are doing you a favor by being in a relationship with you and so they act like making the relationship work is your responsibility alone.
While you give them everything , depriving yourself of happiness just to see them happy and going out of your way to please them, they don't reciprocate. Reciprocity doesn't exist in their dictionaries,  they are users.
Now, it's time for you to stop being taken for granted.
If you are reading this post, I am sure you've had enough and you are on your way to take back your respect and make him regret trivializing everything you've done for him.
I have experienced it firsthand and I can tell you, it is draining and frustrating. I am glad that in the end, I was able to walk away, gain my respect back and make him regret ever treating me so bad.
These seven ways I'm about to share helped me a lot, I hope it helps you too.
Here are seven ways to make him regret taking you for granted.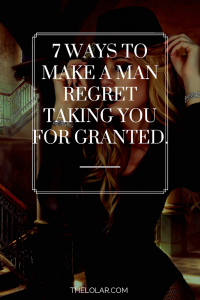 1. TELL HIM.

 Coming out boldly to tell him what he is doing is the first step. When his attitude constantly pisses you off, don't just stay silent or ignore his bad words or actions, just tell him.
Tell him what makes you upset, never ever pretend to be okay with things that make you uncomfortable.
He has kept up mistreating you because you have remained silent all along, now is the time to speak up and say no to the nonsense he is serving you.
If he is manipulative or selfish, tell him. Acknowledge his wrongdoings to his face so that he knows you are not a fool and you won't continue to tolerate his mistreatment.
Don't keep mute in the face of a bad behaviour. You owe yourself that much!
2. STOP GOING OUT OF YOUR WAY TO BE NICE TO HIM.

You have no business going the extra mile for him when you see that he is not trying to do the same for you.
Stop being a man pleaser, this is not your job description.
You have to let him realise you are now a different person, you will no longer give yourself to make him happy.
When he sees that you have changed, he'll realize it is because of his attitude. Refusing to do the the things you usually do because you are tired of him not appreciating and reciprocating will bring him back to his senses.
3. SET RULES AND BOUNDARIES.
It is very important to set rules and boundaries and strictly stick to them. If you are no longer happy with the way he is treating you, set rules that will tell him you will no longer tolerate his bad behaviours.
Create boundaries within the relationship.
Don't  allow him dictate the time you two spend together and how the flow of your relationship should go. Give yourself deadlines for things to get better
When he sees that there are boundaries and you will not put up with any of his crap anymore, he would know its time to either change or lose you.
You have to learn to protect yourself and your happiness,  you deserve to be his priority and not an option.  If you have been making him a priority and he is not doing same, it's time to make him feel like an option too.
4.  LET HIM KNOW THAT YOU CAN DO WITHOUT HIM.

He needs to know that he's not the center of the universe and your world doesn't revolve around him. Letting him know that you are perfectly fine without him will make him realize that you have other priorities and choices as well.
Give him space and have your own life. Give yourself the love you want from him.
Go out and have fun without him, remove him from the equation. Don't waste your time thinking about what to do to make him stop taking you for granted. Don't cry around him, you deserve better. Live your life now, enjoy every moment of your time like he doesn't even exist and he will start having fears of losing you.
5. KEEP YOUR SELF WORTH UP HIGH.

Always have dignity, never ever chase him. No matter what happens, know that it is not your fault and you are not the one who should go out of your way to beg for his attention or, worse still, to think that you are at fault and should change for him.
The only thing you should be doing is holding your head up high and not giving a damn about him until he starts showing that he is determined and ready to change. Walk proudly, talk proudly and refuse to take anything lesser than what you deserve.
6. BE INDEPENDENT.
Men generally respect a woman who can do things for herself. Get a job, get busy.
Focus on your dreams , channel every energy into it and grow. They say success is the best revenge.
And nothing torments a bad man more than seeing his supposed victim doing successfully great without him.
When he sees that you do not need him to survive and you can stand on your own financially, he would come to his senses.

7. LET HIM KNOW THAT IF HE DOESN'T APPRECIATE WHAT HE HAS, SOMEONE ELSE WILL.
Give him time to work on himself and prove to you that he has really changed. If there are still no improvements,  then let him know there are one thousand and one men out there willing to appreciate what he is taking for granted.
If he stopped answering your calls, DO NOT call him again!

If he is not being there for you when you need him most, DO NOT be there for him!

If he is not making an effort, DO NOT  wait for another second.

You are special and so never ever allow yourself  to be treated less. Don't settle for mediocrity when greatness is out there waiting for you.

You deserve the very best.
Never ever forget that.